Food Court Sponsors
Ace Sauk Prairie/Rivers Edge Mall Edge Consulting
Kayser Chrysler
Maplewood of Sauk Prairie
Tools of Marketing, Inc.
Website Sponsors
Cedarberry Inn
Everett's Body Shop & Towing
Wyttenbach Meats
Corporate Throw Sponsors
Bugtussel Wireless
Everett's Body Shop & Towing
Promotions Cellular
Sauk Prairie Memorial Hospital
Village Family Dental
Weaver Auto Parts
Special Contributor
Sauk Prairie Star
Parade Unit Sponsors
Bank of Prairie du Sac
Breunig CPA, LLC
Cloud 9 Day Spa & Salon
DeMars Plumbing
Fair Valley Performance & Repair
K & M Concrete
Diana Kruse MD
Making Waves Hair Salon
Miller and Associates
Mueller Sports Medicine
Piggly Wiggly
River Valley Livestock
Sauk Prairie Liquor
Kids Stage Sponsors
Consumer's Co-op Oil Co
Hooverson Funeral Home
Prairie Clinic SC
Unity Health Plans
Kids Throw Sponsor
Green Acres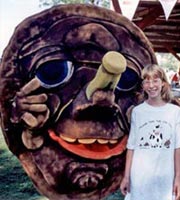 The first pioneers that settled in the Plains faced Indians and unfriendly land. The desire to own a home and land to raise a family gave the settlers the determination to brave the difficult conditions. The scarcity of water and timber for fuel and shelter, plus extreme weather conditions, made life hard and lonely. Bitter winters found the settlers desperate for fuel.

Buffalo hunters had found that buffalo chips could be used for fuel. Most of the buffalo were gone by the time the settlers came, so they had to rely on the "cow chip" for furnishing fuel to cook their food and warm their homes.

When dry, the chips were odorless, gave a clean, bright flame and burned with intense heat, without soot. Chips were gathered and stored for the winter as autumn approached. The cow chip was a life-sustaining utility and was often used in trade for food or anything the pioneers needed.

In 1970 tossing cow chips became a sport in the Cimmarron Territory Celebration held each year in Beaver, Oklahoma in remembrance of the rugged courage and individualism of the early pioneer.

Giant Cow Chip In 1975 the Sauk Prairie Jaycees, recognized the Sauk Prairie Area as the Cow Chip Capital of Wisconsin and organized the first State Cow Chip Throw.

In 1989 the Wisconsin State Legislature proclaimed the cow chip the Unofficial State Muffin.

Over the years, this light-hearted tradition continues. The entire Sauk Prairie Community welcomes you to join the fun.